Textile Machinery Spare Parts Manufacturers and Suppliers
Spare Parts
A range of spare parts for Top & Bottom positive clearer, top arm accessories & Spinning drafting spares like pin type spacers, fluff gun, Collector assembly, Compact spares and OHTC Spares are few from the long list of spares.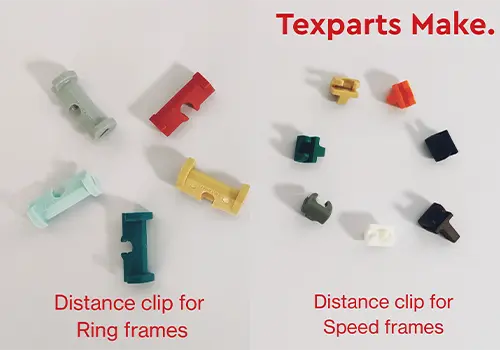 Texparts make Distance clips
Texparts make distance clips available for Ring frames & Speed frames
Pin Type Spacers
Pin type spacers suitable for LR, SKF & Suessen
Fluff Collecting Gun
Fluff gun collecting the fluff accumulation in the drafting system. It's effortless and reduce the time
Opticlean Solution
A high-performance bottom roller cleaner.
Application & Direction of Use
Collector Assembly & Roving Condenser
Downloads
Textile Machinery Spare Parts Manufacturers and Suppliers
Find more about our products. Here we provide you with all the relevant documents for download in PDF format
LET'S DISCUSS NEXT PROJECTS
The talent at Spindraft runs wide and deep. Across many markets, geographies and typologies, our team members are some of the finest professionals in the industry.